Loft Kitchen in Industrial Style
Loft Kitchen in Industrial Style is often called the heart of any house or apartment. This place plays a much bigger role than we usually think. It is the space where you prepare, cook, eat, drink and sometimes even work. If you are looking for ideas and inspiration to design and decorate a loft-style kitchen, then you are in the right place.
What is loft kitchen?
For some time now, lofts have been an increasingly popular solution among people who are faced with the dilemma of how to finish their new house, apartment or investment for rent - says Dominik Szobak
They often decide to use loft doors and walls, industrial furniture, or entire rooms in loft style. One of them is the kitchen, which is usually a room open to the living room, sitting room, or directly connected with them.
Industrial Kitchen in Modern Style
If a room where contemporary and loft-style looks particularly good, it is the industrial style kitchen. Glass, wood, metal, brick and concrete are great alternatives to the typical high-gloss white and some other modern kitchen designs.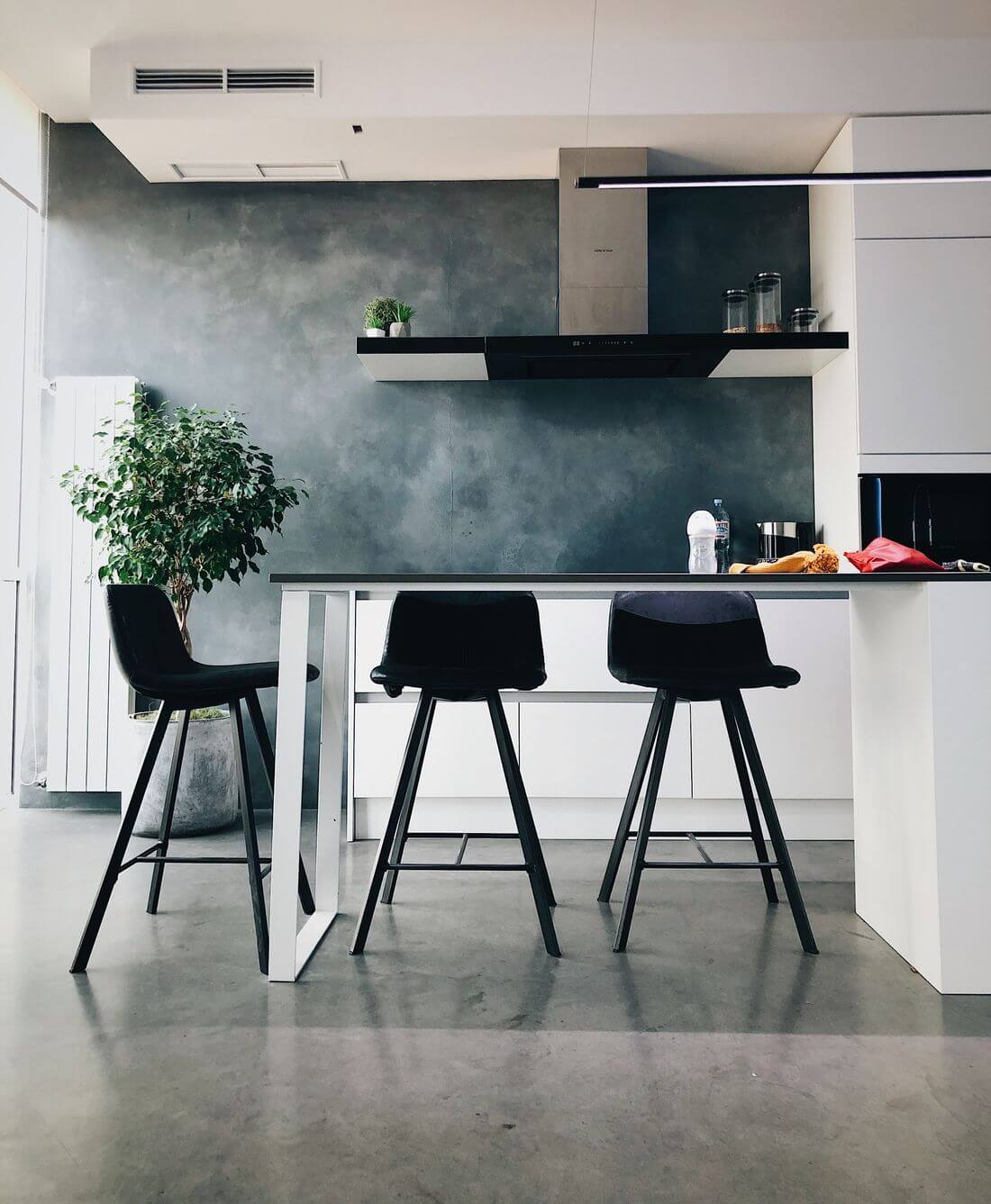 Loft Kitchen with High Ceiling
You can also play with industrial look kitchen ideas.
Undoubtedly, the industrial style of the interior looks best in large loft rooms with high ceilings - says Dominik Szobak
Moreover, modern industrial style kitchen design visually enlarges the space, making it lighter and roomier. That is in line with this specific style, which is increasingly popular around the world.
Industrial and Rustic Kitchen
A key element for industrial modern kitchen designs is the rustic style. The dominant earthy color palette gives the space some gravitas. At the same time, it makes the place look extremely modern and chic. Go for something like this and notice how these kitchen ideas can change your home's decor for many years to come.
Loft Kitchen – Combining practicality with stylish design
Industrial kitchen design style is characterized by the fact that its goal is to combine practicality and excellent design. After all, the kitchen is the place where we spend quite a lot of our free time. Undoubtedly, the beauty of modern interior design lies in the details.
Loft kitchen – industrial wooden table or island?
What should be one of the central elements of an industrial style kitchen, where we initially prepare and eat our meals? There are several ideas.
Loft Kitchen with Island
One of them is to create an island in the middle of the kitchen.
The island in an industrial modern kitchen will be used both to prepare meals, cut vegetables and fruit, compose salads, but also eat them - says Dominik Szobak
A prerequisite is to install high chairs there, the so-called bar stools. Industrial style kitchen islands are convenient and allow you to organize your kitchen to suit your needs.
Loft kitchen with wooden table in industrial style
Another idea is to replace the island with a large loft table with a wooden top on metal legs - says Dominik Szobak
This solution allows you to save space in other areas of the house or apartment and combine the dining room's functionality with the kitchen.
Loft kitchen with glass doors and industrial wall
Many people ask themselves whether to combine the kitchen with the dining room or living room. Therefore, another idea is to completely separate the industrial modern kitchen from the rest of the room.
Ideally, a glass wall with loft doors can be used for this purpose. That will preserve the amount of light coming in and place a certain continuity of space despite its separation.
Loft Kitchen – Lighting
However, when designing an industrial look kitchen, remember that the theme of the kitchen should always blend perfectly with other parts of the apartment (house or studio), including the type of lighting. Be sure to choose hanging lamps and lighting accordingly.
Loft Kitchen – Shelves and Cabinets
Shelves and storage cabinets are some of the items in the kitchen.
Easy availability of various products and kitchen items needed at different stages of meal preparation is crucial - says Dominik Szobak
Therefore, when designing, this aspect should also be taken into account so that the industrial style kitchen is pretty and practical.
Industrial style kitchen
That is also the kitchen part where we can freely choose colors, so don't be afraid to experiment. Using the cabinets' paint, you can warm or cool the look and industrial-style of the kitchen.
Rustic kitchen in industrial style
In the case of a small rustic kitchen, you can use, for example, suspended shelves and countertops, which make it easy to hang all kitchen appliances and accessories and hide unnecessary items. Such a kitchen goes well against the background of a brick wall.
Industrial Style Kitchen Pantry
If only we have space for it to a good idea. Such a pantry can be separated from the kitchen with metal loft glass doors.
What kind of ceiling in an industrial style kitchen?
Here it all depends on whether you have a hard loft or soft loft style room?
In the case of Hard Loft, you can leave visible all kinds of pipes and installations on the ceiling. This is an excellent opportunity to paint them or revitalize and give them a new life - says Dominik Szobak
In the Soft Loft case, all pipes and fixtures will likely be covered from the start and invisible.